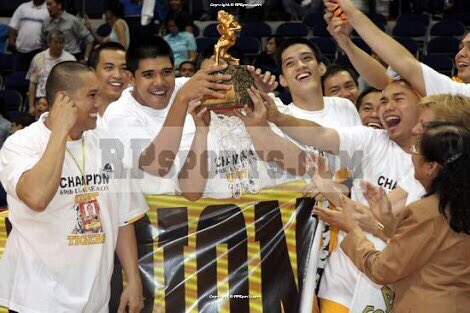 GlobalPort Alternate governor Pido Jarencio has enough time to balance his current job and a new post as a the UST head coach. Photo: @pidojarencio on Twitter.
Reliable sources like SPIN.ph, ABS-CBN Sports, and sportswriter @dbuzzketball on Twitter are reporting that the UST Growling Tigers wants their former head coach back.
After an unsuccesful stint in the UAAP Season 79, the management was pleading for a new head coach and an executive allegedly requested their former head coach as the replacement.
Bring Back Pido clamor was also a number 16 trend in the Philippines for a moment in Twitter after the GlobalPort's alternate governor posted a throwback photo of their championship way back 2006.
— pidojarencio (@pidojarencio1) December 6, 2016
The former 1980's Growling Tiger star was the first rookie head coach of the UAAP franchise who gave the four-century-old university a title on 2006.
Is the old good UST era is happening again? We will see.
Follow him on Twitter:
@notjeckloy